This article describes how to integrate Autochartist into ChartIQ
Sample Code Download
Autochartist ChartIQ Demo
Overview
This project contains a simple demonstration of drawing Autochartist patterns using the ChartIQ library.

Demo data feeds
The demo uses static data for the candles and patterns.
The data is located in the 'src/example-data' folder.
Building and running the demo
Build the demo
This demo uses webpack (
https://webpack.js.org/
) to create an ES6-compatible bundle of the Autochartist pattern drawing module.
Prerequisites From the project root directory:
– Install webpack and jquery:
npm install –save-dev webpack webpack-cli jquery
– Install the ChartIQ library
Obtain a copy of the library, and extract the archive (.zip file)
Copy the tarball (chartiq-x.x.x.tgz) to your project folder
Note: The folder must contain a package.json file.
Install the library from the tarball using npm, for example:
npm install ./chartiq-x.x.x.tgz
This will install all the required dependencies in the node_modules folder.
– Package the Autochartist pattern drawing module
npx webpack –config webpack.config.js
Run the demo
Change to 'src' folder: bash cd src
Run the HTTP server: bash npx http-server
Using your web browser, navigate to:
Simple AC Pattern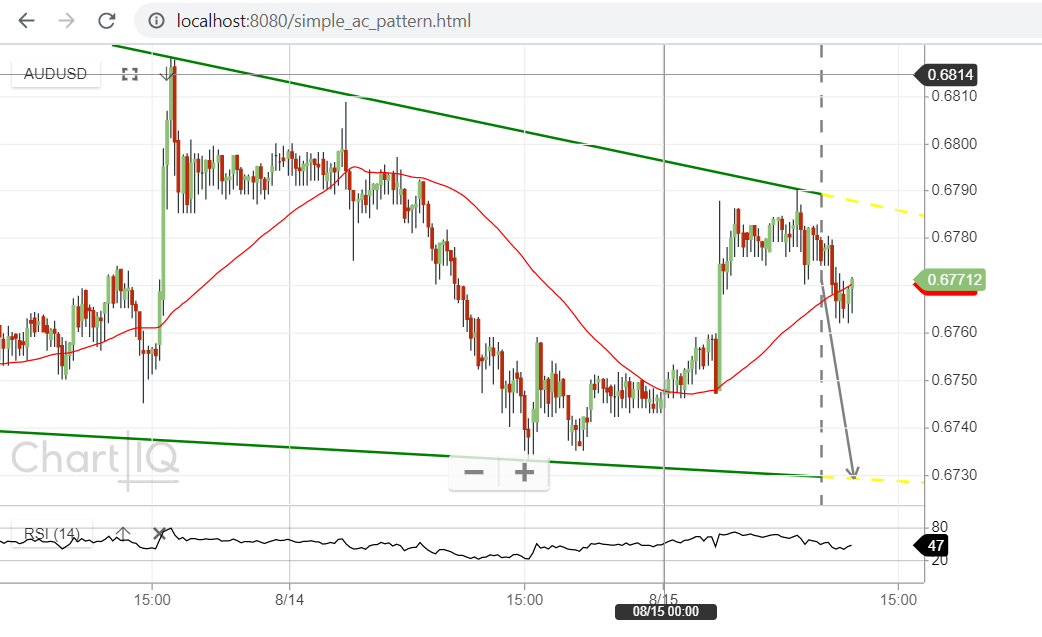 Key Level AC Pattern